[Rewritten December 6, 2015] Writers–well, some writers–are huge risk-takers, and I have taken risks from Day 1 … even as a teenager, writing for my college magazine and the Deccan Herald, and with one curvy and salacious "Adam and Eve" parody I sent to the then-editor of The Illustrated Weekly of India, Khushwant Singh (a great admirer of buxom beauty), but especially with my first novel, The Revised Kama Sutra, and my third and sixth books. Even as the risk-taking continued to endanger my literary career and impoverish me and leave me without patrons or well-wishers, I bet my last penny on writing what I believed in (some published, much more awaiting publication or completion), leaving me with absolutely no security, or even the basic security of monthly rent or medical insurance. While book purchases help, only a direct download from my website helps immediately, and the scale of my current need is somewhat larger.
With enormous regret, therefore, I would like to offer for sale a precious possession of mine: a brilliantly witty and humane Letter of Note from the great writer Kurt Vonnegut (see image below). There is and can only be one Kurt Vonnegut, and he is now no more; and his reaction to my novel The Revised Kama Sutra is original, funny, and vintage Vonnegut.  The letter is safely lodged with my friend Ralph in Stamford, Connecticut, and will be shipped to the buyer by insured courier service (or can be picked up from the location). Please contact me for details about the price and an optional clause (if you choose) in which I will agree to buy back the letter at a higher price, later, should my financial luck change vastly for the better (and why shouldn't it?). Perhaps one of Rushdie's friends (Bill Maher, Warren Beatty, the Four Hundred), or perhaps even Padma Lakshmi, would like to own it, or gift it to him for some special occasion to be framed and put up on his wall? (If I had a wall, I might have done the same; but all I have is Pink Floyd's Wall, and Windows Firewall. :))
Avatar Prabhu was the pseudonym I used (for complex reasons I have explained elsewhere) for the US edition of "The Revised Kama Sutra" (and a few others) before reverting to Richard Crasta. I met Kurt briefly in Manhattan, obtained his Eastern Long Island address and his promise to look at my book; there was not enough time to explain that the novel was being published under a pseudonym. The "Joe Heller" that the letter refers to is Joseph Heller, author of Catch-22 and a good friend of Vonnegut.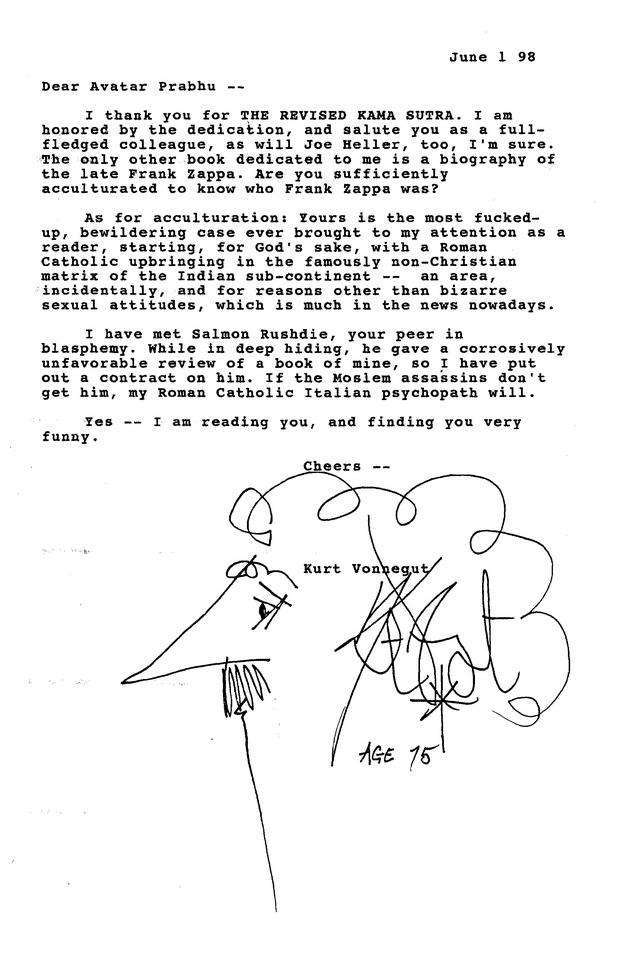 Tweet