"Eaten by the Japanese" is the World War II memoir of an Indian in the British Indian Army–one of thousands captured by the Japanese when Singapore fell. Taken to Rabaul in New Britain (Papua New Guinea) in a "torture ship," he miraculously survives 3 1/2 years of inhuman treatment by his Japanese captors. On returning home to India, he writes this memoir–published by his son, 51 years later.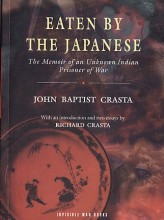 "More than any book in recent memory. . . it is a book about kindness, solidarity, and collective survival, about the bonds that matter … an epic of collective agony. "–Professor Barry Fruchter.
"A classic in military history, telling the story of men trapped in a world of torture, starvation, and death"-Roger Mansell, War historian.
Tweet