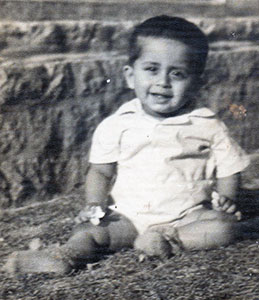 Richard Crasta's life, which began in Bangalore, India, was shaped by the Catholic nuns and priests of multicultural Mangalore, by Bangalore, Bombay, and various cultural centers in India, by his reading of Saul Bellow, Time Magazine, and Readers Digest in his childhood years, and even by the Hollywood movies he was exposed to, including Walt Disney productions, The Sound of Music, and the various James Bond movies and their imitations. It has also been shaped by his immigration to the United States, where this three sons were born, and by his graduate study at Columbia and American Universities. He has spent most of his adult life in the New York area, and currently spends most of his time in Asia (where he has been working on two novels and two nonfiction books).
Even though he was first thrown off a bit by the New York Times writer who described his widely published novel The Revised Kama Sutra as "ultimately an American novel, both in birth and scope," the subversive Indian-born novelist admits that American novels (especially Saul Bellow's "Herzog"), shaped his understanding of the modern novel, and that America, where he has spent over twenty years of his adult life, and was introduced to social satirists like Kurt Vonnegut and Joseph Heller, must accept some of the blame (or credit, as the case may be) for making him what he is today.
HarperCollins India republished his first novel in October 2010, describing it as a "classic," and he recalls the dreamy and in retrospect, innocently naive, dedication of his 1998 American edition: "To America: the locus of most of the world's dreams, and the place where I began to call myself a writer: for allowing me to do so."
In this dedication, America finds itself in the exalted company of Mahatma Gandhi, Kurt Vonnegut, and (perhaps to Bill Clinton's delight) the Yoni Goddess . . . (President Bill Clinton, who was in the White House at that time, was sent a copy of the book, by the way, and replied to express his gratitude.)
Son of a World War II veteran and prisoner-of-war who survived a Japanese prison camp against great odds, Richard had a strict, middleclass Catholic upbringing in Southwestern India (India being home to more Christians than either Australia or Canada), often hungry and barefoot during one four-month period, spending much of his time in church praying for deliverance. (At various readings in America, readers have told him how much his Catholic childhood reminded him of theirs! )
Reading Time and Reader's Digest as a child, he daydreamed of America and of its exotic foods such as Campbell's Cream of Chicken Soup and Swanson's TV dinners. A chance encounter with the books of Saul Bellow and Somerset Maugham (and much later, Henry Miller), and a teenage observation that the heroines of Western movies took off more of their clothes more often and far more quickly than Indian heroines clinched his decision to escape his prudish homeland for the idealized freedom of America.
After obtaining a degree in Literature and Journalism at American University in Washington D.C., he worked for a New York literary agency and taught English at a New York college. He began his novel while taking courses at Columbia University. Provocatively and ironically titled The Revised Kama Sutra: A Novel of Colonialism and Desire, it was first published by Viking Penguin India, and was critically acclaimed and was even briefly a controversial sensation in the land of his birth. It was then published by a prestigious British literary publisher, Fourth Estate, and ended up being published in ten countries in seven languages.
Having published five more books, Beauty Queens, Children and the Death of Sex, Impressing the Whites, One Little Indian (since withdrawn), What We All Need, and The Killing of an Author, and having co-authored Fathers Rebels and Dreamers besides contributing a son's perspective to his father's memoir of being a prisoner of the Japanese in World War II, Eaten By the Japanese, Richard Crasta is presently working on two novels and two nonfiction projects.
Richard Crasta is the father of three boys. Fatherhood is a theme that recurs in many of his books, including The Killing of an Author.  He has also published two humor collections as e-books: I Will Not Go the F**k to Sleep (two editions, one under the pseudonym of Benny Profane), and The Empire Bites Back.